Have you ever thought that your photography may have a positive impact on someone's life so much so it helps them cope during traumatic life transitions and illnesses? Because it can.
As someone who shoots boudoir alongside the weddings, I always knew that this type of intimate photography could and should become a life-long reminder to clients that their life, bodies, and minds should be admired, and as such documented. It could be a way of celebrating a weight loss journey, or perhaps getting through a draining relationship to regain power and energy, or maybe to remind yourself that you as you are today is something worth celebrating in its own right.
To do exactly that, a client whom I'll call Rob for the sake of this article and to keep his identity anonymous, got in touch with me through my boudoir website. In the first few emails Rob was surprisingly open and honest about finding out that he recently got diagnosed with a life-changing illness which was inevitably a shock to him. As someone who regularly keeps fit, travels the world, enjoys the life's luxuries, but has suddenly received a diagnosis that would throw anyone's life in a whirlwind of the unknown, it unsurprisingly made him question "why me?"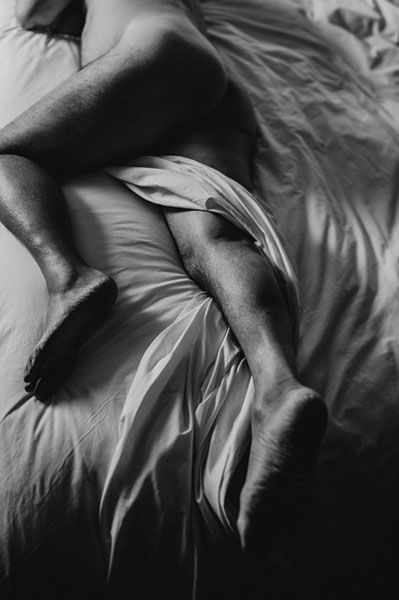 After a longer exchange of emails which helped us to get to know each other more, we opted for a soft, intimate, and arty boudoir session in his own home. The strength to bare it in front of a stranger, physically and mentally, Rob received through days and nights of realizing that his body and mind will inevitably deteriorate as part of the illness, and as such he wants to commemorate his life as it stands today. His life experience, his personality, and sexuality were the things I, as a photographer, had to make sure I honor in our photoshoot.
"I wanted to shock and not be labeled," Rob said. "I wanted to let go and do the things I'd never dreamed of doing. I wanted to fill my life before I became unable. I guess some of it was anger!"
Sometimes, as a photographer that works with people, I am reminded that we can never take for granted the ways we can change people's lives, even if it's simply the smallest thing, such as capturing a brief moment between two people that may mean the world in the future when one of them is gone. And, same goes for working with people who may be looking for ways to express themselves through being in front of the camera, and showing their emotions and deepest thoughts in a way they could never do it in front of a close family member or friend.
The session began with some simple portraiture to bring out Rob's life through his eyes and expressions, and eventually led to more arty and tasteful partially nude work. I find it's very helpful to start slowly and ease both yourself and the client into it, as opposed to jumping straight into it as you would often do with models. Adding a relaxing lunch break in the middle to break up the session helped us go away from shooting for a moment, only to come back with a fresh mind and ideas. Furthermore, I also brought my laptop to do a few quick edits to allow Rob see how my mind works, and how I go from shooting a raw image and transforming it into a visual statement that emphasizes his features and expressions.
As someone who connected with Rob during our pre-shoot and after-shoot email conversations and throughout the photoshoot itself, it was very important for me to ask him whether his outlook on life and himself has changed in anyway since we worked together, and his answer gave me so much to be thankful for working in this industry, and inspiration to keep going.
He said: "I've come to terms with it. I returned to a normal working life and I'm learning to adapt to it. Physically it's barely noticeable, unless I'm stressed or tired. I realize my body is my body. If I can help anyone feel better about life I can't wait to do it again and strangely I want to be bolder. It's my secret. I think it helped to give back my confidence. I look at the pics and think I still have life to live."
Have you ever though about your photography as something that could actually change or at least have an impact on someone's life? Have you ever had clients that give you the courage to keep going?